PIANO BAR EXPERIENCE
A gathering of friends sharing music with songs, stories and requests
VIDEOS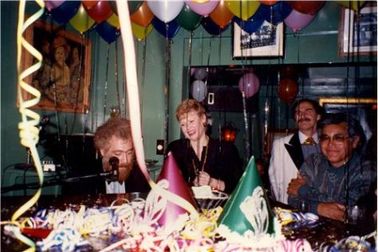 Partial Song List
The Piano Bar Show with Bob Goldstick is a one-hour performance of songs, mostly from the 40s, 50s, and 60s, that everyone loves, presented with high energy and professionalism that guarantees all residents and staff will have a great time. Usually, people start tappin' their feet, clappin' their hands, and singing along from the very start of the show.
After performing about 30 shows a month since 1993, Bob has learned what works in every setting and can always provide an entertaining experience. He's performed shows at every type of facility you could imagine, including Rossmoor in Walnut Creek, CA (for about one thousand folks) to small Alzheimer's units (with only 5 or 6 residents). In all situations the show is finely tuned to provide the most entertaining experience possible. In all cases the reactions are similar.
* "You brought back the best memories of my life."
* "You made me feel like I was dancing in my husband's arms."
* "I felt like I was in high school again."
* "My feet never stopped moving."
* "You played all my favorite songs."
* "You really bring a lot of joy to us old folks."
* "Can't you come back tomorrow?"
One of the reasons the show is so universally enjoyed is that Bob takes requests. This is the essence of the Piano Bar experience. He introduces the show with the following -
     "I call this The Piano Bar Show because it's like the old style piano bar where you could ask the piano player to play anything you'd like. I don't know all of the songs, but I do know most of them, and the ones I don't know, I go home and learn. So, don't be bashful. Ask me for your favorite songs and you'll be surprised how many I know."
This invitation brings the audience into the show and allows them to choose what they will hear. Most of the requests are included in the list of Top 100 Favorite Songs, so it's not hard to get at least nine out of ten requests.
Another reason the show is greeted with such enthusiasm is that Bob is a gifted piano player who has played these songs for years.  People tell him he reminds them of Fats Waller, Eddie Duchin and Liberace. Because he's such a good piano player they even think he sings well. But, it's mostly his personality and approach to the show and the audience that make the experience unique and special
KCTS Seattle PBS did a program on Bob's show at a nursing home in Seattle in 2004 as part of their presentation of "The Forgetting". To view the show, click here
COMMENTS BY ACTIVITY DIRECTORS
 
 

These are comments from Activity Directors about The Piano Bar Show

The energy was high! Bob came in and we all came alive when he began to play the piano! Even my sleepy people woke up! There was a reaction from every resident in the room.  Smiles and some tears! Knees were being slapped and a toe or two tapped too!  Staff danced a bit behind the wall! Everyone had a ball! If I could have these wonderful live people in my facility daily we would be happy all the time!

Terri Harris, Activity Director Marquis Care; Forest Grove, OR October 9, 2001


Prior to your last performance, one of our residents was bemoaning her dull, somber life. On Friday at three o'clock, I picked her up from her room and brought her to your performance. Throughout your hour-long show she was smiling and singing and commenting, "I'm so glad I came!" At the completion of the hour, she applauded and cheered ... "ENCORE! ENCORE!" After the final song she whispered in my ear, "Before this show I was thinking a lot about death, actually I think now I'd like to live a while longer." 

Activity Director, (name withheld by request) Guardian of Rossmoor June 16, 1995



Mr. Goldstick has performed at our facility. The residents thoroughly enjoyed his performance. His music selection, talent, and personality are just what our residents love. We look forward to having Mr. Goldstick here at our facility again.

Debra L. Nickels-Zandinejad CTRS Hillhaven San Francisco May 30, 1995

Bob is a very personable individual who likes to bring his music into the lives of our residents. He does a great job at reminiscing with residents and reminding residents of some of their past favorite songs. Bob is always smiling and truly shows how much he enjoys doing what he does.

Anne Marie Farley, Activity Director Piedmont Gardens, Oakland, CA  April 19, 1995

His performances are always well received as his polished and engaging style of music revives memories and creates new ones. Many of our residents ask for him by name and show their appreciation of his music by getting up and dancing or singing along. Considering the average age of our residents (87) we cannot value his visits highly enough. 

Angela Thorbeck, St. Annes Home Little Sisters of the Poor, San Francisco, CA, May 18, 1995

I believe your greatest gift however, is the high quality of your musicianship and the warmth and directness of your delivery. The fact that you reach out to your audience, talking to them, asking for requests and remembering some of their names and favorite songs really makes your program exceptional.

Jackie Nelson, Tryways Care Center, Santa Cruz, CA September 8, 1992

Our residents always ask and look forward to your return. We have been delighted to make this a part of our regular, ongoing program and will be happy to recommend you to our other Hillhaven locations as well as other organizations. 

Marta Garland, Activity Director, Hillhaven Brookvue Convalescent Hospital, San Pablo, CA January 2, 1995

It is always such a pleasure to have him perform at this facility and bring his love of music to the residents here. Bob Goldstick always has a broad repertoire and historical backgrounds to the music that he performs. He brings a multidimensional performance and gets the residents involved.

Julie Olson, Activity Director, Hillhaven Convalescent Center, San Francisco, CA , May 19, 1995