Listen to Rock Hammered Dulcimer Album
Across The Universe, Within In and Without You, Rain, I've Just Seen A Face, Yesterday, Swing Low Sweet Chariot, Europa,  O Sole Mio, Stardust, Voodoo Child (slight Return),
Thanks for your donations-Secure through PayPal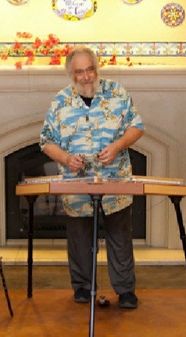 The hammered dulcimer is a
stringed
instrument with the strings stretched over a
trapezoidal
sounding board. The Graeco-Roman
dulcimer
(sweet song) derives from the Latin
dulcis
(sweet) and the Greek
melos
(song).
 Various types of hammered dulcimers are traditionally played in
India
,
Iran
, (called Santur) Southwest Asia,
China
,
Central Europe
,
Eastern Europe
(called Cymbol) and
Scandinavia
., The instrument is also played in the United Kingdom and the
U.S.
, where its traditional use is in folk music.
The dulcimer Bob plays was made by Dusty Strings in Seattle and is tuned like a piano. This allows him to play any style of Western music including classical, jazz, country, rock 'n roll, gospel and latin.